About Me: David Adams
Hi there,
I'm David Adams, and I live with my wife Maria in the beautiful English county of Oxfordshire, not far from the famous university city of Oxford with its 'dreaming spires'. I'm also the owner and author of Build a Website, and I'd like to tell you a bit about myself and how I came to create this site.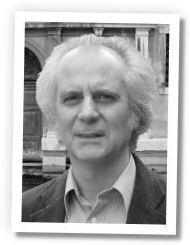 At school I studied a wide range of arts and science subjects, but in my last couple of years there decided to concentrate on mathematics and physics, and went on to study mathematics at university.
In the Beginning...
After leaving university I went into the computer industry for about twenty-five years, which included twelve years as a freelance consultant, and worked for a somewhat varied series of high-profile employers and clients in both the public and private sectors.
Over those twenty-five years I must have done just about every job that there was in software development, maintenance and support, and most of the time several of them simultaneously. I just loved getting stuck in!
During that time, too, I discovered a couple of things about myself. I seemed to have the somewhat uncommon ability to understand and communicate with both people and computers, and I was insatiably curious. When I worked on a software project, I wanted to know and understand as much as I could about my client's business, and I believe that I was able to do a better job as a result.
My Wildest Dreams...
In July 1998 I joined Oxfordshire County Council to manage the development and maintenance of the 'GUI', a modern Windows-based interface to their legacy mainframe accounting system. I was in my element, and enjoyed my time at Oxfordshire very much, but things were about to change...
Sometime during 2002 the Council decided that they would replace all of their existing computer systems with a new and all-encompassing system both provided and maintained by an external company. The Oxfordshire 'GUI' was no more, and my services were no longer required.
For a while, I looked for another job for someone with my knowledge and experience, but without success. Perhaps it was time for a new and different approach...
New Horizons...
Maria had been a enthusiastic artist and crafter for many years, although she was probably best known as a bear artist, and the creator of the Bears by Design range of miniature artist bears. It was a market that we knew well, so we decided that we'd set up a website to sell arts and crafts materials.
So I started looking at business packages that a website company that we'd used in the past was offering, and planning what the site would look like, how we'd advertise...
However, not everything went quite as we'd planned...